Directions to Rochester Office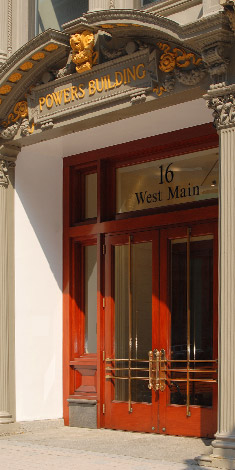 Rochester Office:
Powers Building, Suite 500
16 West Main Street
Rochester, NY 14614-1601
Phone: 585.232.5600
Fax: 585.232.7738
Other Locations:
From Syracuse:
Take New York State Thruway, Interstate 90, West
Take 490 West, Exit 45
Continue on 490 West (approximately 15 minutes)
Get off at Broad Street Exit
Turn Right on Broad Street
Continue on Broad Street to Fitzhugh Street
Turn Left on Fitzhugh
Cross Main Street
Turn Right into Sisters City Garage
After finding a place to park, walk either up or down to the third level to the Powers Building Entrance. Walk down ramp turn right, then turn left at double glass doors. Walk through Café/Atrium of building. Take the stairs down to main floor, turn right at bottom of stairs. Elevator is opposite security desk. Take elevator to 5th floor. Blitman & King is Suite 500 as you get off the elevator.