CUEd In

The Law and Business of Employee Benefits for Credit Union Executives
Credit union executives turn to Blitman & King to handle complex financial transactions and litigation involving employee benefits and employment law. Our substantive knowledge and valuable skill set are the reasons why credit union executives retain us. We do not try to handle all types of legal matters that confront credit unions and their executives. Instead, we handle specific matters involving employee benefits and employment law either, as special counsel or on an ongoing basis.
We at Blitman & King are seeing complex, cutting-edge legal issues arising from the global fight for executive talent and the search for new or expanded financial services. In an effort to stay on top of these employee benefits and employment issues faced by credit union executives, as well as credit unions as institutions, we launched a newsletter for credit union executives—"

"—devoted to the law and business of employee benefits and employment law. Through

, we intend to address the shortage of expertise and information available to credit union executives on high-level employee benefits and employment related matters.
Click on the below images to view current and past issues of

. If you wish to have future issues of

electronically delivered straight to your inbox, please send an email to cuedin@bklawyers.com.
Welcome to Blitman & King and

.
Current Issue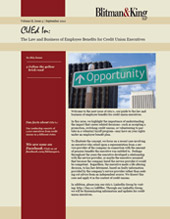 Volume II, Issue 3 | September 2012
Past Issues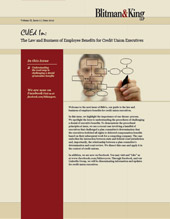 Volume II, Issue 2 | June 2012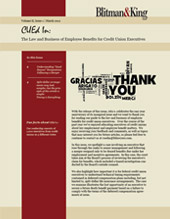 Volume II, Issue 1 | March 2012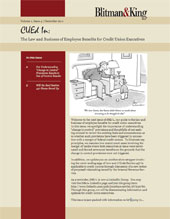 Volume 1, Issue 4 | Dec. 2011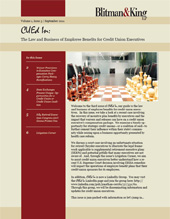 Volume 1, Issue 3 | June 2011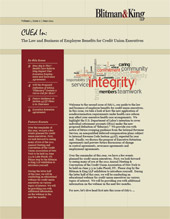 Volume 1, Issue 2 | June 2011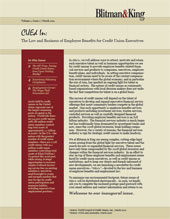 Volume 1, Issue 1 | March 2011